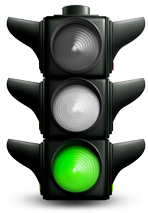 EDT
(Essential Driver Training)
If the issue date of your first B category (Car) learner permit is on or after 4 April 2011, in order to be able to sit your full driving test, you must first complete all EDT lessons.
What does EDT involve?
EDT is a course of 12 one-hour lessons. These lessons are designed to cover certain driving skills and improve your practical driving skills. As you complete each lesson, your Approved Driving Instructor (ADI) will record your progress in your specially issued logbook. You should also have a sponsor, an experienced driver (many learner drivers choose a family member) who will supervise your driving practice outside of lessons, and will also track your progress in your logbook.
Before driving any vehicle please make sure that you are insured to drive it. After you finish your EDT course, you may still need additional lessons with an ADI to improve your driving skills. Additionally, you should practice with your sponsor as much as possible to get experience behind the wheel. On the day of your driving test, you should bring your completed log book on the appointed test date, as you may be required to show it to the examiner. At your first EDT lesson, and each lesson thereafter, your ADI will check your learner permit, and if you are using your own car, will check to make sure your insurance, motor tax, NCT and the roadworthiness of the vehicle are all in order.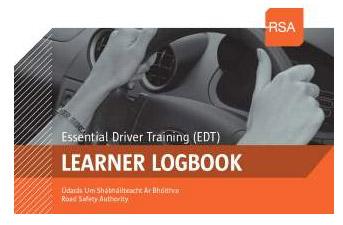 Your ADI will give you a logbook with your name, address, date of birth and learner permit driver number.You should bring your logbook to each lesson and make sure all the appropriate sections are filled out after each lesson, you can download sample here.
EDT lessons timeline
EDT Lessons 1-8 must be taken in that order, but lessons 9-12 can be taken in any order.
Each of the 12 lessons in EDT lasts for about one hour.
We recommend that you leave at least two weeks between each EDT lesson to allow for further instruction and practice with your ADI or sponsor.
The EDT course is best spread out over six months.
What do the lessons cover?
Each of the EDT lessons has particular objectives. You should prepare for each lesson using the EDT Course Syllabus. The 12 lessons are as follows:
LESSON 1: CAR CONTROLS AND SAFETY CHECKS.
LESSON 2: CORRECT POSITIONING (1)
LESSON 3: CHANGING DIRECTION. (1)
LESSON 4: PROGRESSION MANAGEMENT.
LESSON 5: CORRECT POSITIONING (2) (MORE COMPLEX SITUATIONS)
LESSON 6: ANTICIPATION AND REACTION.
LESSON 7: SHARING THE ROAD.
LESSON 8: DRIVING SAFELY THROUGH TRAFFIC.
LESSON 9: CHANGING DIRECTION.(2) (MORE COMPLEX SITUATIONS)
LESSON 10: SPEED MANAGEMENT.
LESSON 11: DRIVING CALMLY.
LESSON 12: NIGHT DRIVING.
How the logbook works
When you start your first EDT lesson, your ADI will record the details of your training and progress, as well as necessary preparation for your next lessons. omega replica sale You can familiarize yourself with the format by viewing a sample logbook, refer to RSA.ie website.
When you complete an EDT lesson, your ADI will stamp the relevant section of your logbook and record some feedback on how well or whether you met the lesson objectives.To meet the lesson objectives you must prepare properly, practice with a sponsor and you may need to take additional instruction with your ADI.
An RSA Approved ADI can only sign the lessons they have given, so be sure to get your logbook updated by your ADI after each lesson. If you change ADIs, your new ADI will not be able to fill out your logbook for lessons you have already taken.
The logbook also provides space for both you and your Sponsor to assess your performance in your EDT lessons. This evaluation will help you understand what you need to practice to become a safer driver and how best to prepare for your next lesson. Because regulations change from time to time check uptodate rules and regulations on www.rsa.ie